Academy of Friends Gala
1200 mini cupcakes might seem like a lot of work, but imagine having to frantically repair more than half of them on-site because of damage during transport... now thats a nightmare! And thats exactly what happened February 24th 2008 the day of the Academy of Friends Gala. Academy of Friends was founded in 1980 as a private oscar party of 25 friends but has grown to become one of the largest contributors to Bay Area HIV/AIDS services organizations. The '08 Gala raised over 500,000 and AOF has raised over 6.3 million over the past two decades.
Our original goal was to make 1500 cupcakes as suggested by the event organizers but after an impromptu decision to arrive two hours early, 1200 mini cupcakes it was: 600 Vanilla Bean with Vanilla Frosting and 600 Dark Chocolate with Milk Chocolate Buttercream.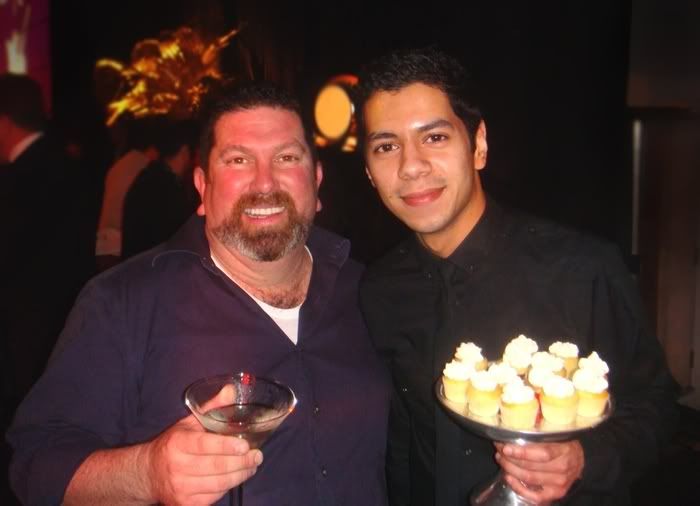 AOF Veteran/ Martini Stealer Michael and I holding
Vanilla Bean Cupcakes with Vanilla Frosting
The decor was beautiful and the guests were entertained by acrobatics, 007 sketches and singer Taylor Dayne. Just a few minutes of mini-cupcake touch-ups, and they were ready for display and eating, of course. After rhythmically shaking my head to 
Tell It To My Heart
, 
Beautiful
, and some other 80's hit I was unfamiliar with, the party was over with plenty cupcakes to spare.