Mark and Michael
October has been the busiest month yet this year. Lots of events/galas and cakes! From a gluten-free dacquoise cake for Jaye to Mark and Michael's wedding cake.
Mark, Michael and I worked together to create an elegant and masculine non-traditional wedding cake for their intimate ceremony. What resulted was an ivory and chocolate brown cake with mahogany accents.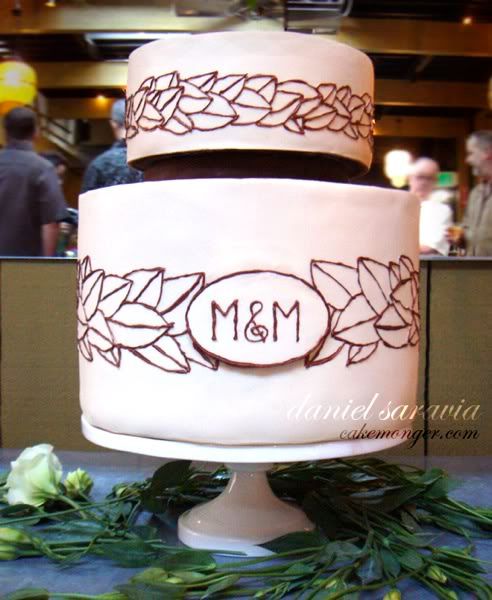 Although all cakes made are completely custom, this design is a first for me. The bottom tier consisted of two cakes, same size but different flavors, stacked directly on top of each other to create a taller-than-usual tier. The bottom half consisted of Chocolate Fudge Cake with Milk Chocolate Buttercream and the top half, Vanilla Bean Cake with Vanilla Buttercream. The groomsmen's' top tier consisted of Dark Chocolate Cake with Milk Chocolate Buttercream since they both are chocolate fiends (or chocolate-mongers). =)
Congrats Mark and Mike!
-M&M's Wedding Cake created October.18th.2008